Introducing cloud-management for Catalyst, powered by the Meraki platform
Networking teams are in a constant battle against complexity. New apps, services, sites, and security risks arise on a weekly basis.
To meet these challenges head on, IT has rapidly scaled the capabilities and power of the network. But, as that scope and scale expands, the network itself is rapidly diversifying and fragmenting. And when your other priorities are resiliency, agility, and not going crazy, that's a challenge.
At Cisco Meraki, we believe that simplicity is at the core of scalability, and that the best way to deliver these powerful experiences is through a cloud-first platform.
This morning at Cisco Live, we announced the next step in our customers' journeys toward truly cloud-native networks. For the first time, it's possible to monitor and manage Catalyst networks in the Meraki dashboard. With cloud management for Catalyst, we're giving businesses around the world immediate access to:
Simplified, efficient operations
Powerful automation and intelligence
More network and business agility than they thought possible
Meraki customers who are already well down the path to cloud-managed can now combine the power of Catalyst hardware with the simplicity of cloud management—with full visibility into Catalyst-based access networks.
Cloud monitoring for Catalyst
The first and most important step in this journey is visibility. Cloud monitoring lets you connect to your access networks from anywhere, see the flow of traffic, and quickly diagnose where clients may be having issues. It's an incredibly powerful way to scale your operations without adding complexity.
Meraki customers have leveraged this power for over a decade, and today we're bringing the scale and agility of the dashboard to Catalyst customers. With cloud monitoring, you'll be able to see your Catalyst 9500, 9300, and 9200 switches at the heart of your network live in the Meraki dashboard.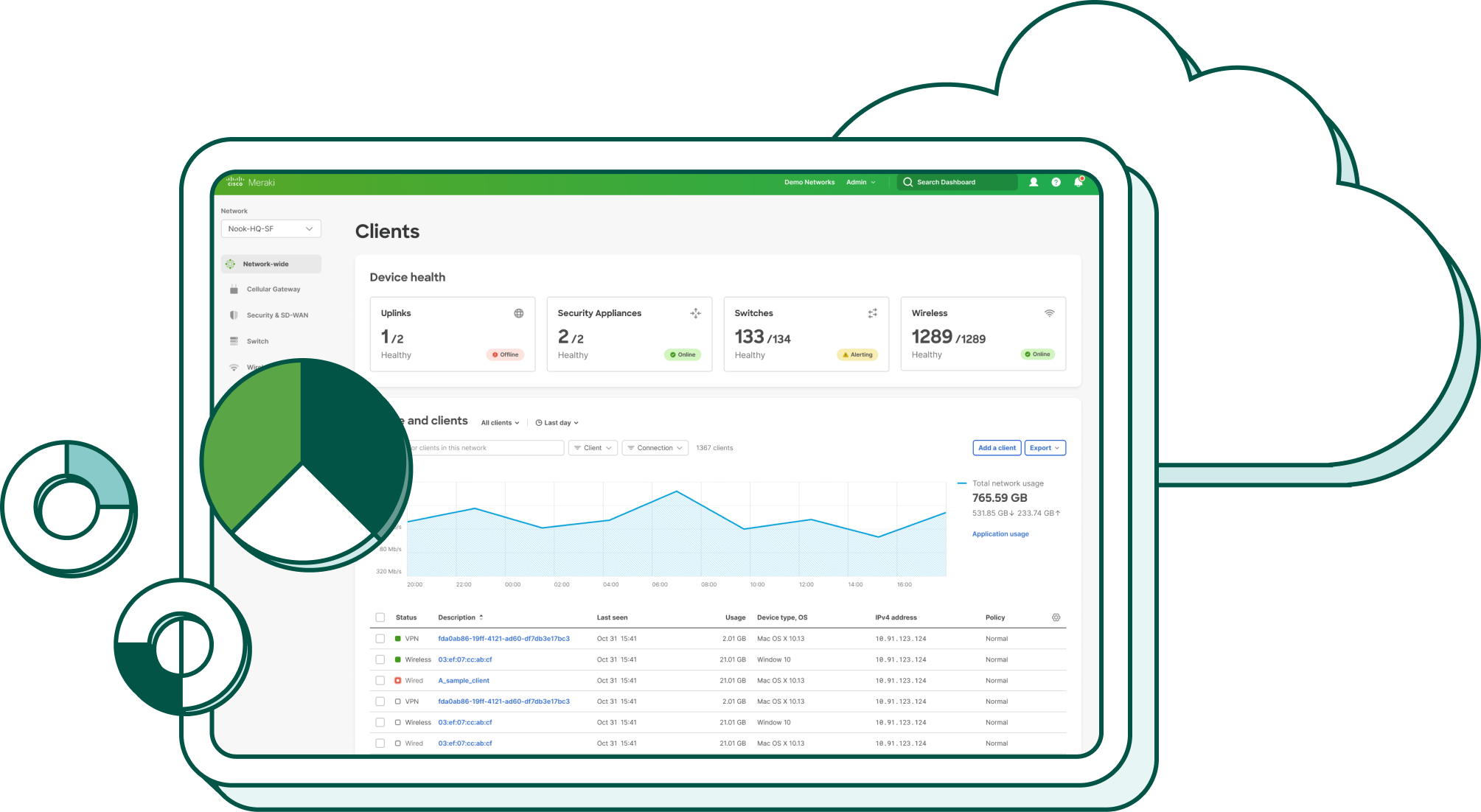 It's more than visibility, too. Cloud monitoring gives you insight into the topology of your network—every connected client and port-level configuration. You'll also get detailed traffic inspection and simple troubleshooting tools. The upshot? You'll be able to quickly identify, isolate, and resolve issues without the need for on-site staff.
A full portfolio of Wi-Fi 6E access points
Joining the hugely successful MR57, we're adding three new Wi-Fi 6E access points to the Meraki lineup. Not only will these devices open up more power, more performance, and more spectrum for your networks, they're the first in a new line of wireless innovations from Cisco.

The new Cisco Catalyst 9100 series access points (beginning with the Catalyst 9166,  9164, and 9162) fill out our 6E portfolio and can be directly managed by either the Meraki dashboard or a Cisco 9800 wireless controller and Cisco DNA center.
This is a two-fold benefit for our customers. First, they're getting the flexibility to transition their network management to the cloud on their terms. Second, this converged hardware platform combines the best of Catalyst and Meraki to accelerate wireless innovation.
Customers taking this step on the journey to cloud management will get access to the full Meraki feature set for these access points, truly merging the scale of the #1 cloud-management dashboard with the power and flexibility of Catalyst, the #1 network hardware platform.
A leaner, fresher, more powerful dashboard
Connecting all this innovation is the brand-new Meraki dashboard. Our team has taken everything our customers love about the dashboard and made it faster, more accessible, and more intuitive at every step. Starting with a new network landing page, we've dramatically improved every aspect of network management with a modernized layout, intuitive workflows, and directly actionable insights.
For organizations with Catalyst switches at the core of their network, making the move to the cloud has never been easier or more accessible. The Meraki dashboard is truly their bridge to the cloud.
Taking your next step
No organization's journey to cloud management looks the same. Many are already there, managing 100% of their networks through the Meraki dashboard. But there are countless more organizations at different stages of this trek. Some have Meraki wireless and Catalyst at the core. Others are Catalyst end-to-end.
Your journey may take a month, a year, or more, but we'll be with you the entire way, whatever your business requires. You just need to choose that first step.
To get started, check out our Quick Start Guide and move into the fast lane on your journey to cloud management for Catalyst.
by: Matthew Landry
Matthew Landry is VP Product Management, Networking and Security at Cisco Meraki